Montana Taylor is one of the finest blues pianists ever recorded. His style is mainly barrelhouse but he is sometimes grouped with the boogie woogie players. A few of his tracks have an insistent eight-to-the-bar boogie type of accompaniment, the best known being Detroit Rocks. But Detroit Rocks is not as rich of a composition as its flip side, Indiana Avenue Stomp, both recorded in 1929. Indiana Avenue Stomp, logically, relies more on a four-to-the-bar stomp accompaniment. Sometimes the spaces between the beats are filled in but it is not consistent, so the overall feel is four. The fact that the accompaniment varies from bar to bar and section to section gives it an alive, improvisatory feeling that is distinctively barrelhouse in character.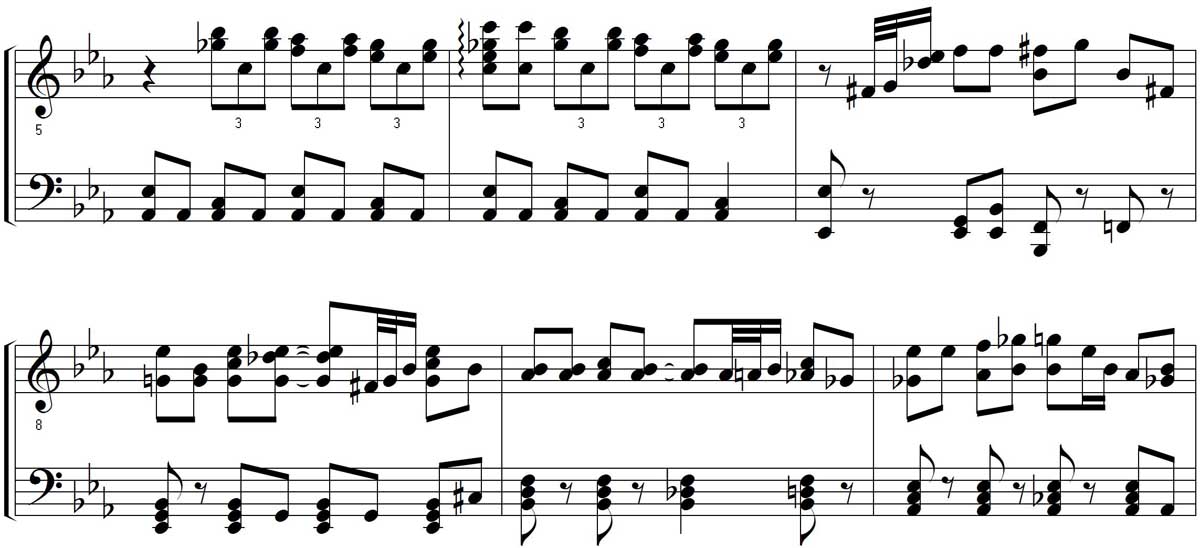 Montana Taylor – Indiana Avenue Stomp, measures 5-10
Indiana Avenue Stomp also displays some of Taylor's distinctive harmonies, including unusual dissonances. He often will play crashed seconds, sometimes even accenting them to make them more prominent.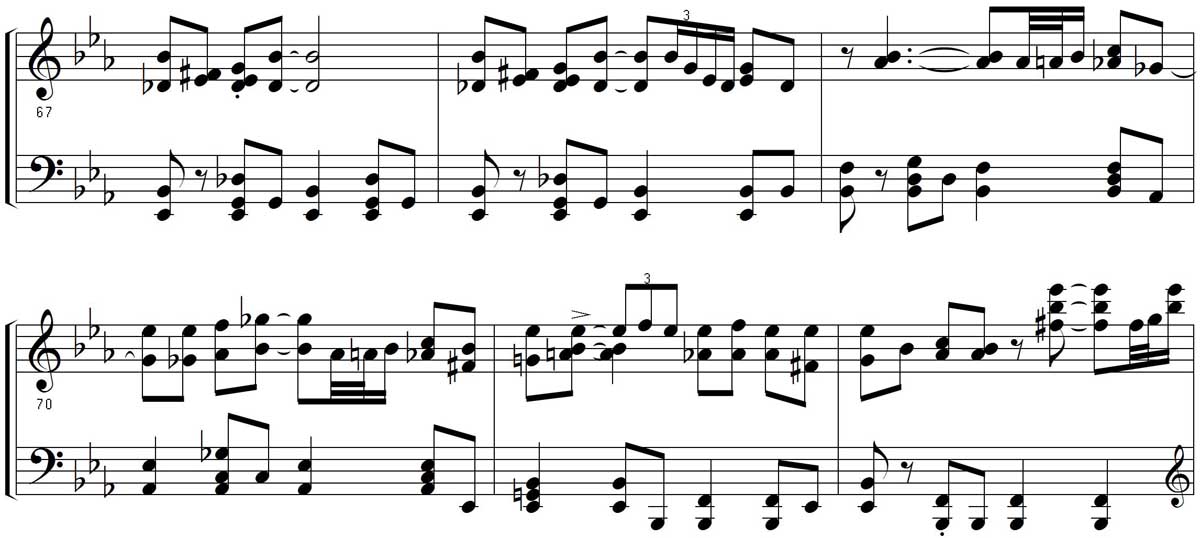 Montana Taylor – Indiana Avenue Stomp, measures 67-72
Two other sides were released in 1929 but have not become very popular due to the presence of the Yazoo Boys on the recordings. With no discernable talent, the Yazoo boys clown around and unfortunately obscure some great playing by Taylor. Hayride Stomp is rather similar to Detroit Rocks but Whoop and Holler Stomp is something different altogether. It is a remarkable example of a straight (non-swung), driving boogie woogie. Certainly it would have gained more notice if not for the blight of the Yazoo Boys.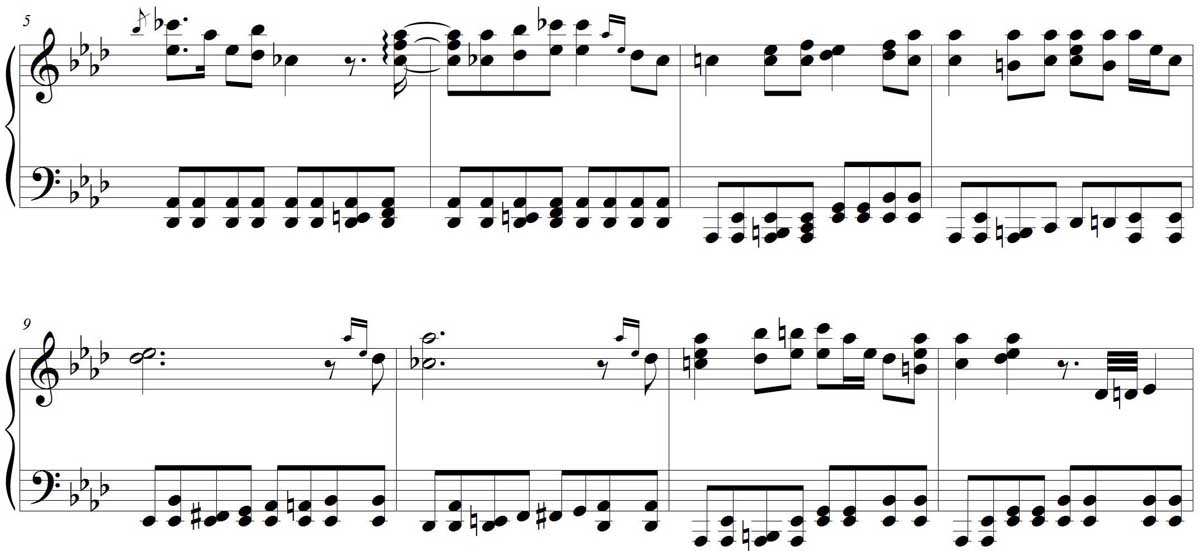 Montana Taylor – Whoop and Holler Stomp, measures 5-12
After his 1929 recordings failed to gain much notice, Taylor dropped out of sight for quite some time. He was tracked down in the 1940s and encouraged to record again by Rudi Blesh. Taylor's later recordings continued to show his depth and versatility, including some vocal recordings of which I Can't Sleep is the most affecting.
Montana Taylor – I Can't Sleep
Of Taylor's later piano solos the most outstanding was not a commercial recording but was performed at a radio broadcast that was recorded live. The Five O'Clock (or Five O'Clocks) is a powerful boogie type of piece in straight rhythm with a relentless driving energy. An interesting rhythmic aspect of The Five O'Clock is that Taylor will sometimes extend a harmony beyond its usual place in the pattern or end it early. This in itself is not unusual and practiced by a number of blues pianists like 'Cripple' Clarence Lofton. But what Taylor does differently is that he will alter the length of the following harmony so that the 12-bar phrase length is not affected. The end result is that harmonic changes do not match up with the bar changes. A simpler version of this idea is found among the recordings of boogie woogie pianists like Pete Johnson, who would sometimes consistently change just ahead of the bar.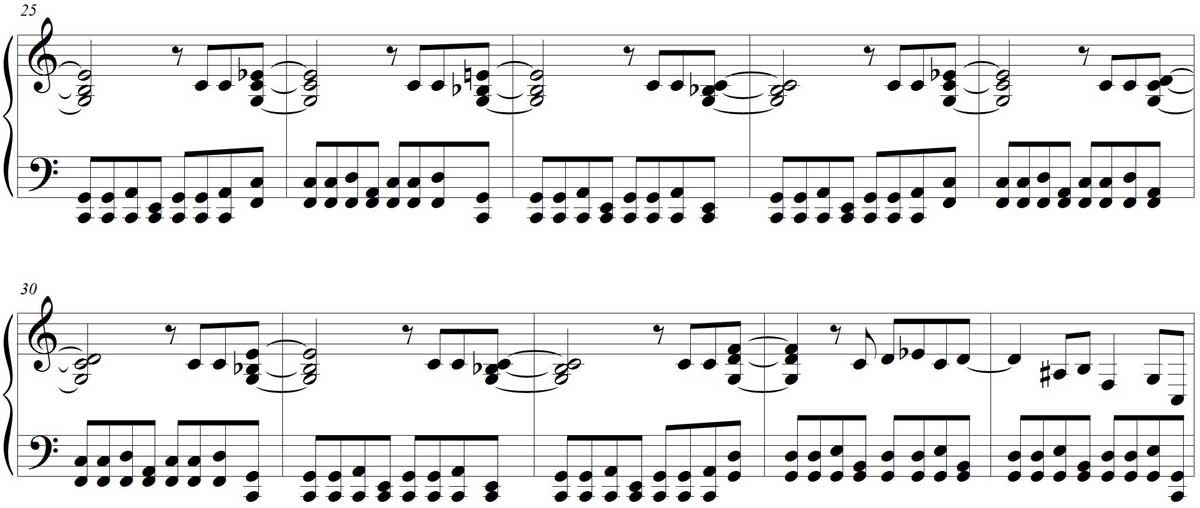 Pete Johnson, Big Joe Turner – Roll 'em Pete, measures 25-34
But Montana Taylor's practice is more varied and the changes can take place either before or after the beginning of the bar, or not at all. The end result is a fascinating off-kilter feeling.

Montana Taylor – The Five O'Clock, measures 13-20
Montana Taylor's recordings can be found on Montana Taylor Complete Recorded Works in Chronological Order by Document Records. The one drawback of this collection is that the recording of The Five O'Clock is terribly distorted, to the point that it is almost unlistenable. A vastly better version can be found on Montana Taylor by Circle Recordings. That compilation also has a couple of unreleased recordings, although it is missing the essential Indiana Avenue Stomp. (There is a track with that title but it is a later recording and bears no resemblance to the original 1929 version.)