'Cripple' Clarence Lofton is a unique artist and one who is difficult to categorize, although most of the time he is grouped with the boogie woogie players on account of his insistent, eight-to-the-bar accompaniments. But unlike the typical boogie woogie style that swings the 8th note in a 4/4 meter, in his most famous recordings he plays them straight. Instead, Lofton swings the 16th notes, although even that is not consistent. The result is a busy, complicated sound that is distinct from any other recorded blues player.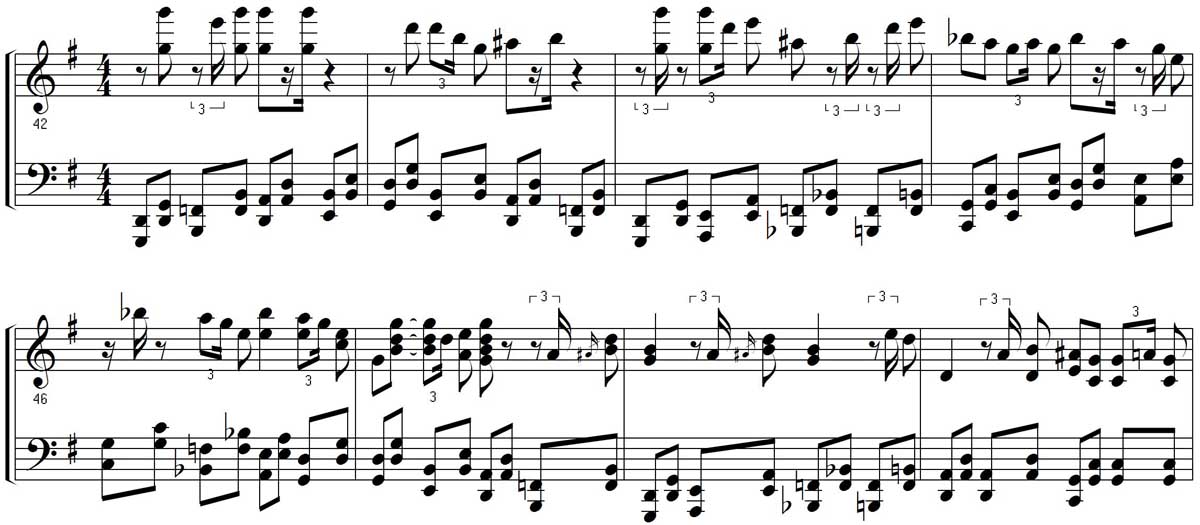 'Cripple' Clarence Lofton – I Don't Know, measures 42-49
This example also shows Lofton's typical walking bass which uses an octave plus a 5th. A number of players used this sort of bass but Lofton's is individual in how he plays the middle note with both the upper and lower notes of the octave.
Lofton did sometimes record in a more typical barrelhouse or boogie woogie style such as Mercy Blues and Blue Boogie. These pieces just are not as well known.
Another distinctive feature of Lofton's recordings is the variability of the phrase lengths. Recordings will often deviate from the usual 12-bar formula, sometimes including half bars.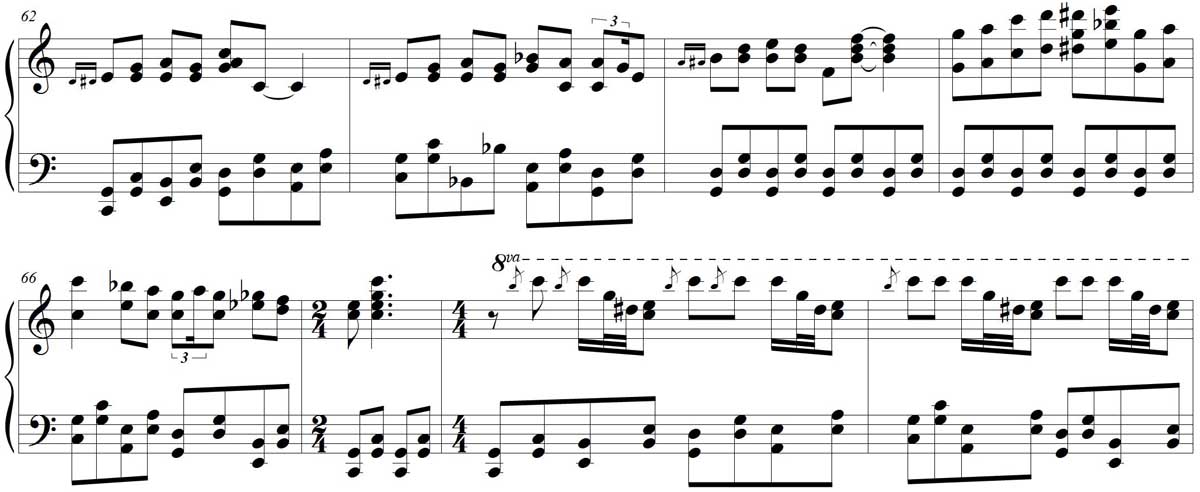 'Cripple' Clarence Lofton – Streamline Train, measures 62-69
This piano solo version of Streamline Train alternates between 12, 11 1/2, and 11-bar choruses. It differs from the two recordings of Streamline Train made with 'Red' Nelson in that Lofton accommodates the singer by sticking to a 12-bar formula after an introductory 11-bar chorus before the singer enters. One lesson learned from this observation is that Lofton's 11 1/2 and 11-bar choruses are not haphazard but are intentional artistic choices. The phrases of I Don't Know are even more unusual, often 10 and 9 1/2 bars.
One of Lofton's vocal recordings, Brown Skin Girls, uses an 8-bar pattern, somewhat similar to the well-known How Long Blues. Brown Skin Girls appears to have been the inspiration for the later recording by Willie Perryman, aka Piano Red, titled Red's Boogie.
'Cripple' Clarence Lofton – Brown Skin Girls
Piano Red – Red's Boogie
One of Lofton's recordings is significant historically because it is the only known performance of the early boogie-woogie standard, The Fives, written by Hersal and George W. Thomas. Lofton's version uses a standing bass pattern, much like the original sheet music in the introduction and chorus. However, he extends the use of the standing bass further into the piece by using it during the verse where the original sheet music had a ragtime bass. This turns The Fives fully into a boogie woogie piece. Questions remain about how and when this transformation of The Fives took place. We don't know if Hersal Thomas played The Fives in such a manner or if his performance retained more of a Chicago South Side character.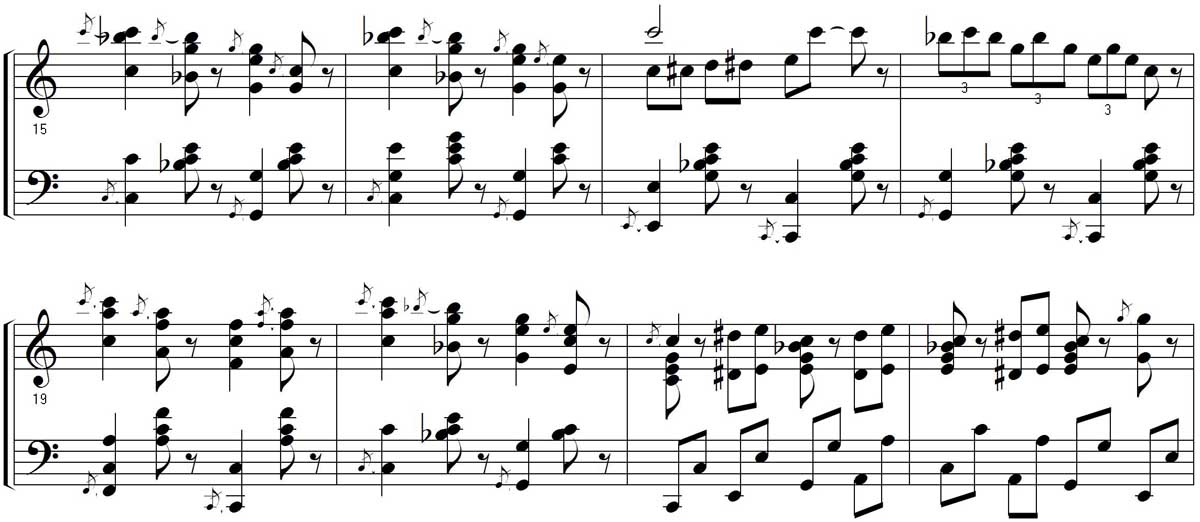 Hersal and George W. Thomas – The Fives, measures 15-22 (piano roll reduction)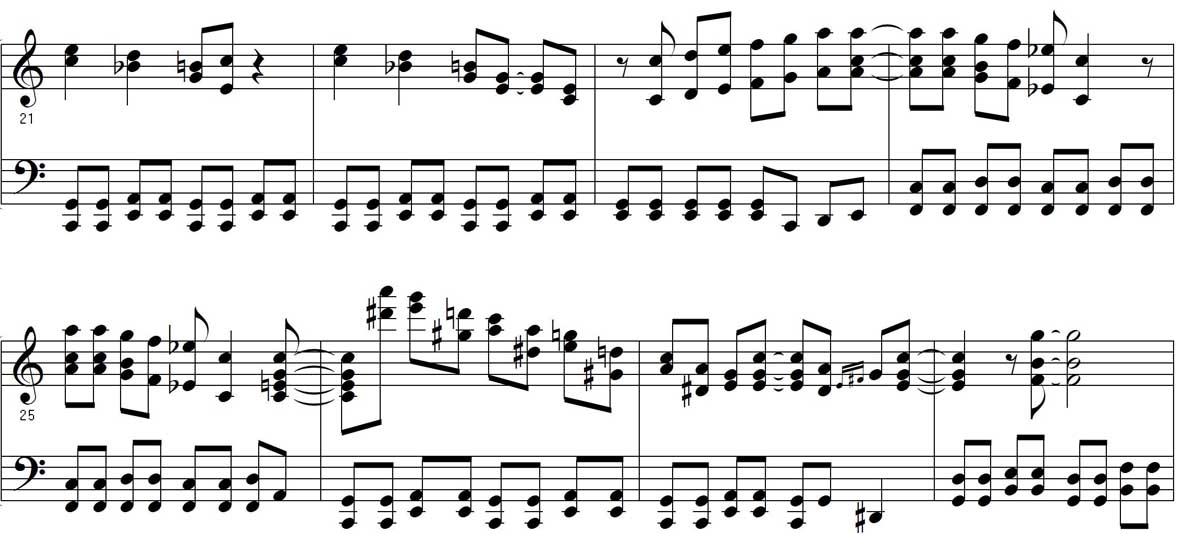 'Cripple' Clarence Lofton – The Fives, measures 21-28
Also note the descending tritone to third pattern in measure 26 which was not part of the original sheet music or piano roll of The Fives, but was a device commonly used by Hersal Thomas in his playing. Since this device was not used by Lofton in his other recordings it is possible that this indicates that Lofton was influenced by Hersal Thomas's playing of The Fives.
We know from Albert Ammons that The Fives was commonly played in the Chicago South Side area, by himself and others, but he never made a recording of it. Lofton's recording of The Fives breaks into a walking bass accompaniment part way through, in a manner similar to Ammons's Boogie Woogie Stomp and Shout for Joy. We should also consider the possibility that Lofton's recording may be close to the way that Ammons played it.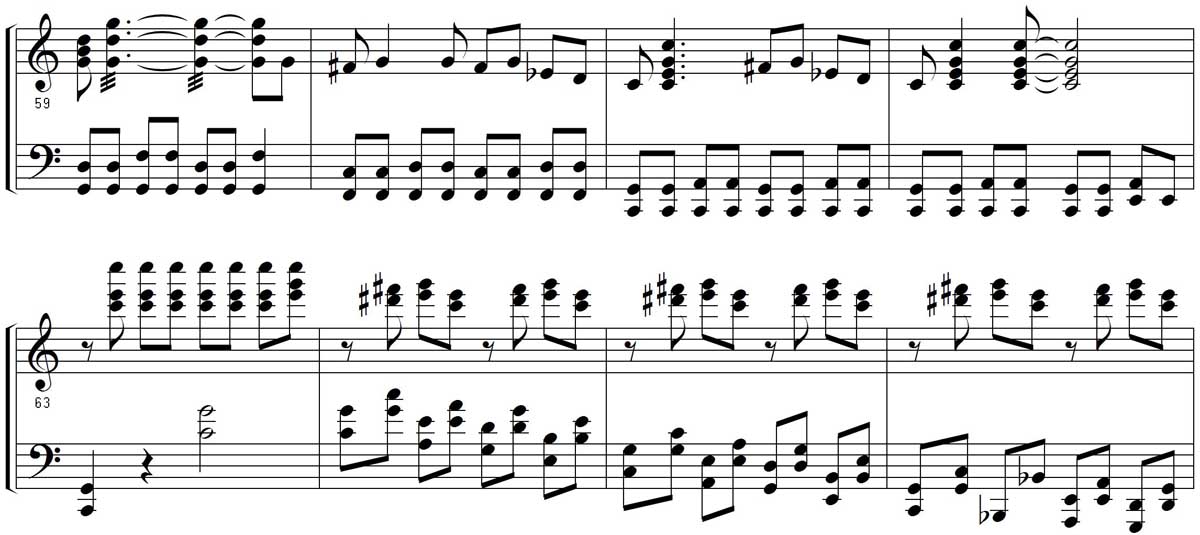 'Cripple' Clarence Lofton – The Fives, measures 59-66
Albert Ammons – Shout for Joy, measures 73-80
All of 'Cripple' Clarence Lofton's solo recordings can be found in two volumes: Cripple Clarence Lofton Volume 1 and Cripple Clarence Lofton Volume 2 by Document Records. Both are essential, although volume 1 probably contains more of his familiar recordings. Lofton also recorded as accompanist, the most significant example being Sammy Brown's The Jockey Blues made in 1927, almost 10 years before Lofton's first solo recording. This track demonstrates that Lofton's basic style was already formed by this time, even if it became more florid later on. The Jockey Blues can be found on Country Blues Collector's Items 1924-1928 by Document Records.