Although released in 2014, the three-CD box set, Deep South Piano, is a companion to the 1970 book of the same name. History comes to life as we hear previously unknown pieces from 'Little Brother' Montgomery's repertoire as well as some of the mysterious pianists who we once knew only by name from the pages of the book.
Karl Gert zur Heide told me that the long delay, 44 years after the publishing of the Deep South Piano book, was mainly due to the cost of producing the box set, and its selling price of the box set will not allow him to break even on his expenses. One wonders how many other recordings exist out there but simply have not been issued due to the cost of doing so. I am grateful in this case that we get to hear sounds that would have been lost to history had it not been for zur Heide's efforts.
The first title that caught my attention was Dudlow Joe, already known as a name for the peculiar style of music before it was called boogie woogie. The term was used by both Montgomery and Willie Dixon in interviews, and Lee Green recorded a piano solo with that title. Comparing Montgomery's and Green's versions of Dudlow Joe, the only obvious similarity is the initial bass line, the same bass first published and recorded in The Rocks, by George W. Thomas.
George W. Thomas – The Rocks
'Little Brother' Montgomery – Dudlow Joe
Lee Green – Dudlow Joe
Montgomery's historical accounting places the style of Dudlow Joe just a few years before the sheet music of The Rocks was published, so perhaps there is a connection. Lee Green's Dudlow Joe most resembles Montgomery's recording of Farish Street Jive, while Montgomery's Dudlow Joe more closely resembles his song, No Special Rider Blues. Whether Dudlow Joe was originally a style or a specific piece of music that the style was named after, like Pine Top's Boogie Woogie, is not possible to tell.
A scarcely-recorded gem by 'Little Brother' Montgomery on the CD set is Milas Davis Blues named after a barrelhouse pianist with southern and mid-western roots who ultimately settled in Chicago. This lyrical piece is unusual for having a left hand featuring tenths relatively high in register which helps to give it a gentle, lyrical sound.
'Little Brother' Montgomery – Milas Davis Blues
He does the same for a few other unrecorded pianists with numbers like Rip Top Blues, Willie Anderson Blues, and Leon Brumfield Blues. These are pieces played by old pianists that Montgomery learned from growing up, and he revives them from dust bin of the early 20th century like only he could do, owing to his remarkable memory.
Another fascinating recording by Montgomery is 44 Blues. He begins by playing it in the old, original style, but over the course of six minutes gradually transforms the piece into his masterly reworking, Vicksburg Blues. This amounts to an unparalleled history lesson that is a great companion to Paul Oliver's well-known analysis in Screening the Blues.
'Little Brother' Montgomery – 44 Blues (beginning and end)
On the CDs we also get interpretations from various artists of standards like Pine Top's Boogie Woogie, St. Louis Blues, and Yancey Special. Particularly fascinating is Dewey Corley's minimal rendering of Yancey Special where the bass is silent every other pattern, resulting in a contrapuntal dialogue between the right and left hands instead of the usual melody and accompaniment relationship. Even more idiosyncratic, the left-hand phrases are in the typical four meter while the right hand mostly plays measures of three, mixed with two and four.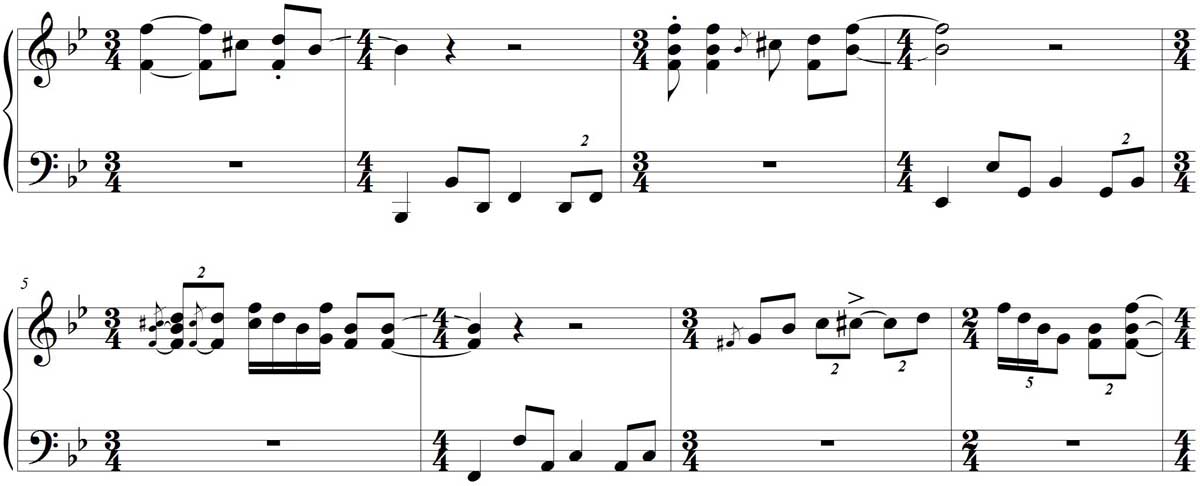 Dewey Corley – Yancey Special, measures 1-8
The pianists represented on the CDs are largely the friends and family of Little Brother Montgomery. These range from the known artists Sunnyland Slim and Roosevelt Sykes, to lesser-known artists like Tuts Washington and Gus Perryman, to Little Brother's own siblings, Joe Montgomery and Willie Bell Dailey. It is remarkable how fluent his sister Willie Bell Dailey is considering her claim that she hadn't played blues since her school years, plus her outright statement "I don't play no blues". Zur Heide's extensive liner notes give a generous amount of information about all of these pianists.
As reported in the liner notes, Little Brother Montgomery did not like to be thought of as solely a blues pianist. And while his recordings here are primarily blues, a number of the recordings by other pianists fall more into the ragtime and jazz categories. Lafayette Leake, in particular, plays in a very polished style of jazz and boogie woogie. Despite Montgomery's assertion that Leake was the best pianist in Chicago, there's not much there for a barrelhouse enthusiast to appreciate in his playing. Still, his Gone With the Wind, based on Art Tatum's rendition, is certainly an impressive performance.
Lafayette Leake – Gone With the Wind
If anything remotely critical could be said about the CD set it is the noticeable pitch wobble in a small number of the recordings. However, considering the portable equipment that was used the overall sound is remarkably good and clear. Keep in mind that these recordings made at private homes include many expected ambient sounds, including conversation from others in the house, the clanking of dishes,  and the occasional telephone ringing in the background. If anything, such sounds give us a feel for the space in which this music was typically played.
To sum up, this box set is a must have for anyone interested in barrelhouse piano as it uncovers some great performances nearly lost to history, and this review only scratches the surface of the contents. It can be purchased only from Guido van Rijn's label on his website. You have to send an email directly to Guido to make the purchase.
The CD set is shown on this page: www.agramblues.nl/deepsouthpiano.htm and the information for ordering is found here: www.agramblues.nl/order.htm