Henry Townsend was one of longest-lived bluesmen with his life span stretching from 1909 to 2006. Although he frequently worked odd jobs he continued to perform the blues often throughout his life. As a guitarist his style evolved over the years with his earliest recordings in 1929 demonstrating a distinct country blues sound but later grew into the electric blues style of the post-war era.
Townsend's piano style is another matter. Piano was definitely a secondary instrument for Townsend, yet he played in a personal style quite different from the pianists that he frequently worked with: Roosevelt Sykes and Walter Davis. What's more is that Townsend's first recordings on the piano, made in 1937, are essentially the same style as his later recordings, not showing the same degree of development as his guitar blues.
Townsend's piano style sounds loose and improvisatory, featuring pounded notes in the right hand. His piano playing was primarily designed to accompany his vocals, but fortunately in 1979 he recorded a piano solo, Alley Strut. Alley Strut is representative of Townsend's typical playing and begins with pounded right-hand chords.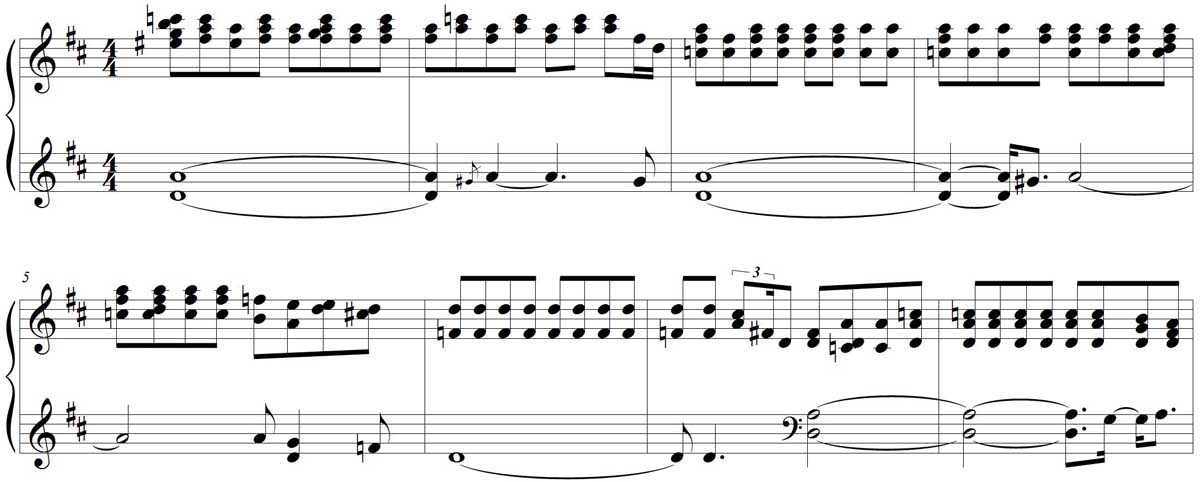 Henry Townsend – Alley Strut, measures 1-8
Note the similarity with one of his first piano recordings from 1937:
Henry Townsend – All I've Got's Gone
Unlike Skip James, whose piano blues seem to have almost nothing stylistically in common with his guitar blues, the style of Alley Strut has a clear correlation to the repetitive picking of Townsend's earliest country blues recordings.
Henry Townsend – Henry's Worry Blues
There are plenty of differences as well, as Alley Strut follows the typical blues harmonic pattern while Henry's Worry Blues and his other three recordings from 1929, have a constant tonic drone throughout, sounding like some of the more rustic blues from Mississippi rather than the usual St. Louis style.
Henry Townsend's recording of Alley Strut can be found on MULE by Nighthawk Records. His early recordings, including the 1937 piano ensemble pieces, can be found on St. Louis Country Blues by Document Records.